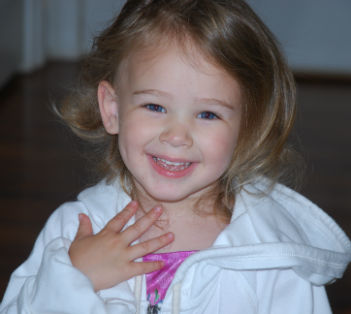 From two brothers growing up, to having sons of my own,
in my whole life, I've seen nothing but testosterone!
So, when this "la femme" was born to my eldest son, Matt,
I honestly didn't know quite what to make of that.
Now, you've heard that granddaughters can have their way,
with their grandfathers, getting anything on any given day.
'Wrapped around her little finger' is how I heard it put,
as if us granddads were helpless; marching to their "hut, hut!"
But I'll have you know, this ole boy was primed and ready.
I had read all that junk, but wanted to keep my integrity.
After all, fairness dictated that I treat all my grands,
with evenness, giving all the same from my hands.
That was how I was treated, though it was just us boys.
Everybody got the same…food, haircuts, even toys.
Nobody complained any more than boys generally do,
and without a girl around, that just had to do.
But this bundle of curls and dimples was something else again!
She didn't use fussin' and fightin' like us guys to win.
She had already begun learning those womanly wiles;
getting her way with sugary words and melting smiles.
For starters, I had never been around a real princess.
Boys could be boys, but not this little missus.
They say boys are made of snips and snails,
and outside things like puppy-dog tails.
But girls, well, they're made of sugar and spice,
and all things that come to define the word 'nice'.
But our princess Ava plays a little in both sides;
keeping up with brother Lucas in everything he tries.
Just when you think a tomboy she'll be;
out comes the princess for one and all to see.
She's cute right now, and a beauty she'll be.
Daddy better be readying his artillery!
Ready for those youngsters that'll surely come calling,
for permission to date his beautiful daughter.
Her heart is pure and saved forever;
for her mommy and daddy have prayed together.
Ever since they laid eyes on this precious little girl,
They've asked God to guide her through this troubled world.
Invincible then?  Not quite, for you see,
She's had her struggles, just like you and me.
But God's got plans for this happy-go-lucky dear,
His hand will shield her, when danger is near.
But for now, she'll be a princess on days when she wants,
or play with puppy dogs on other days when she don't.
She'll dazzle and shine on some big stage some day;
or merely be content to help others on their way.
As a Poppy I'm mellowing – Ava understands this.
Transforming before our eyes into a delightful little miss.
Our own special princess, who simply imparts,
love in every smile that goes straight to our hearts.
Her dimples and grins,
testify once again,
to the love within….our Ava!
Steve "Poppy" Alexander
June, 2014